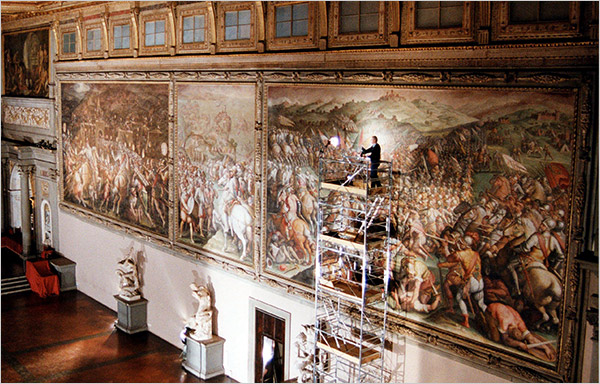 Maurizio Seracini has been looking for "
The Battle of Anghiari
" for over 30 years. I really think something has to be behind the wall in the Palazzo Vecchio - Vasari doesn't seem like the kind of guy to destroy a Da Vinci - but at the same time, you would think that if the painting is really there he would have publicized it better.
"Leonardo would love to see how much science is being used to look for his most celebrated masterpiece," Dr. Seracini said, gazing up at the wall where he hopes the painting can be found, and then retrieved intact. "I can imagine him being fascinated with all this high-tech gear we're going to set up." Dr. Seracini was standing in the Palazzo Vecchio's grand ceremonial chamber, the Hall of 500, which was the center of Renaissance politics when Leonardo and Michelangelo were commissioned to adorn it with murals of Florentine military victories. On this July day of 2009, it remained the political hub, as evidenced by the sudden appearance of Florence's new mayor, Matteo Renzi, who was rushing from his office to a waiting car.
This story has also been making news for a long time -
we wrote about it
about a year and a half ago. Hopefully with the new mayor, who seems to favor the project, and the new technology, Seracini will finally find an answer.