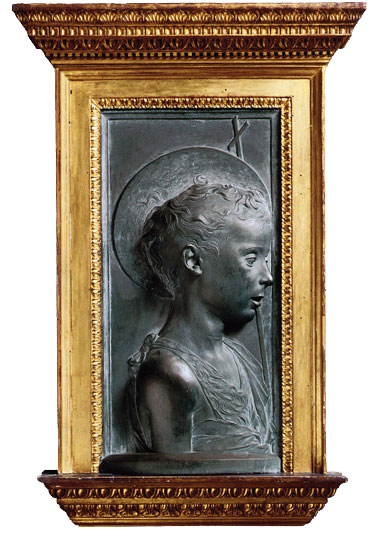 I had a chance Sunday afternoon to see the new Desiderio Da Settignano exhibit (it opened last Thursday) at the Bargello so I took it. This is an important show, drawing on works from the Bargello's own collection, the Lourve, The National Gallery of Art in Washington D.C. and the Kunsthistoriches Museum in Vienna among others.
There is a very nice fold out brochure for the exhibit that describes every work (there are not that many pieces in total, about thirty in two small rooms - this is a quality and not quantity exhibit), but unfortunately the monograph is only in Italian. The ticket to the Bargello will also get you into Santa Croce and San Lorenzo (I would assume only on the same day) to see two of Settignano's most important works in Florence, the tomb of Carlo Marsuppini and the Tabernacle of the Sacrament.
Settignano and his brother ran a busy workshop, and although there was a lot of working going on, what strikes you most about his pieces, and his marble carving especially, is the delicacy and perfection. Most of the works in this show are reliefs and busts (obviously the larger tomb sculptures can't travel) and they are on the whole beatifully crafted, with sublime details and an amazing finish that just begs to be touched. His several busts of children are examples of an amazing creative paradox in the way they capture and perfectly freeze youth in solid marble.
Renaissance, art, and sculpture lovers have to see this show. It isn't something I would recommend for the casual tourist, but there is so much to see in the Bargello that if you are in Florence and miss it you have made a mistake!
Desiderio da Settignano
La scoperta della grazia nella scultura del Rinascimento
Museo Nazionale Del Bargello
Via Del Proncosolo 4, Firenze (map)
February 22 to June 3, 2007
http://www.desideriodasettignano2007.it
Booking and information: 055 265 4321