The NY Times had this nugget the other day: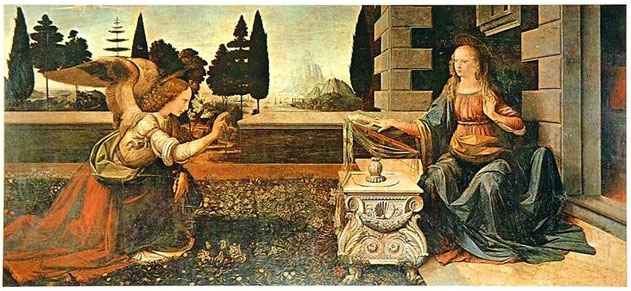 "Italy may have insured "The Annunciation," a Leonardo Da Vinci masterpiece, for $132 million, but opponents of its planned loan to Japan have appealed to the culture minister, Francesco Rutelli, to cancel the trip, Reuters reported. Some protesters have even threatened to chain themselves to the Uffizi Gallery in Florence to prevent the 15th-century painting, more than six feet long, from leaving on March 12. In Japan, the painting, depicting a seated Virgin Mary being approached by an angel, is to be displayed in a series of exhibitions celebrating Leonardo and other Italian artists. Cristina Acidini, an art historian and the superintendent of the Polo Museale Fiorentino, which oversees Florence's museums, said conservationists had examined the painting and given clearance for the transfer. "From a conservation point of view there was no reason for us to deny the loan," she said. But some experts, including Antonio Natali, the Uffizi's director, say the painting is too delicate and precious for the long flight."

We have some friends that both used to work at the museum, and have currently been working on photographing this painting for their Japanese clients, and they are still unsure whether this is actually going to happen or not. Personally I think the painting is going to Japan, in a specially built crate with all kinds of bells and whistles and with a 24 hour attendant. There was probably a lot of money passed around on this one - too much for it not to happen. It could get ugly though and if the protests turn into a big deal maybe they will call the loan off. An interesting story and one I am going to try to find out more about.