So I finally made it to the Strozzina today to see the Richter show, which is in truth a group show centering around some older works by Richter (a group from the 60's and another from mostly the 80's) with additional younger artists (and more contemporary work - painting and sculpture).
The show is mostly very well done, although the lighting, especially in the room with work by Xie Nanxing is not optimal, nor is the space large enough to provide enough distance to properly see these paintings. That being said, the three very large canvasses by Nanxing (see below) stole the show for me. They are gravitationally captivating, demanding time and thought. Maybe the most interesting and original painting I have seen in a long time. The technical skill is unquestionable, but the ambiguous subject matter, veering to the completely abstract, but obviously not, is the most compelling thing about these pictures. This is an artist I have to find out more about.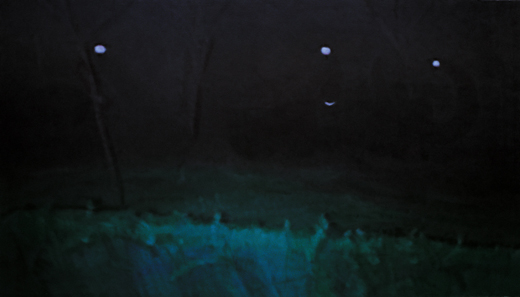 (The photo above really does no justice to the work - you have to see it in person)
And the Richters are for the most part fantastic, as is the vintage video of him working in his studio - even if it is fraught with the usual cliches about art and painting (it would probably would have been better without the offbeat jazz soundtrack and the over serious narration).
Overall definitely a show worth seeing.