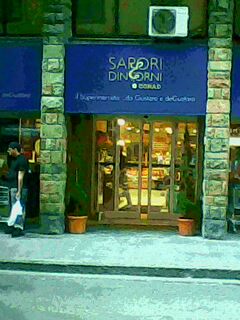 What is it with all the new mini supermarkets in Florence? Unfortunately I think it is a by product of this global recession. We lost the American Express office almost two years, and what is going to open in its place? A new META market (META is all over town, used to be called Magi Mart).
There is already a newer market on Borgo Albizi. There is a new one across the street from our apartment (an independent). And this morning on my walk, I passed the newest entry in town on via Guicciardini de'Bardi (and I think there are two of these - I saw something on the back of a bus mentioning two locations), the more upscale "Sapori & Dintorni" by CONAD. Some of the produce was outrageously priced - the wine prices were actually pretty good though :)
So first there were more pizzerias, then gelaterias, and now the money seems to be moving into the supermarket space. Just sort of strange.