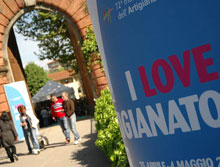 The "Mostra Mercato Internazionale dell'Artigianato" or "International Artisan Market" starts this weekend at the Fortezza del Basso (April 24th to May 2nd). This is a great fair full of hand-made things from all over the world - furniture, carpets, jewelry, clothing, - all kinds of stuff, large and small. There is an entrance fee, and there are also vendors inside if you want to grab lunch, etc.
You can find all the information on their website (Italian only).
We have been to this several times and hopefully we'll attend this year too.