Something new on Florence Journal - we're going to highlight hotels we think would be worth staying in Florence. The links go to Venere for booking, and we are an affiliate, so if you click through and book, Florence Journal earns a commission (which would be highly appreciated).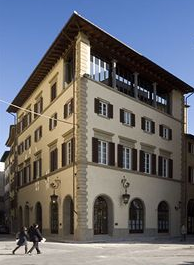 The first hotel I would like to mention is the newly renovated Hotel L'Orologio. This is classified as a 4-star boutique hotel, and is located on Piazza Santa Maria Novella. So, great location, near the station for easy access into and out of Florence, and if you get a room that has one, great views of the church and square.
The rooms can be a little on the small side (typical for Florence), but they are really well done, and as mentioned brand new. The place is given to a theme of "Orologio" (clocks & watches) and there are cool clocks, vintage watch signs, etc. throughout the lobby, etc. They have a really neat bar too which looks like a great place to hang out an enjoy a cocktail.
There is WiFi available in all guest rooms and common areas. This is trendy, hip place - but the prices are very reasonable (I think since it is newer they are keeping the prices down for now), and it is already very well reviewed on all the usual travel websites.