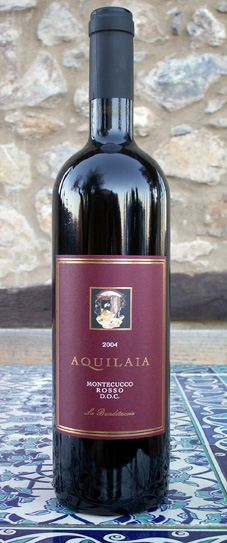 We have not been writing a lot about Italian wine lately - although we have been drinking plenty. I recently received an email from the Arosio family. They are the owners of Azienda Agricola La Banditaccia and the makers of Montecucco Aquilaia, a Tuscan red that I wrote about last year. They have been kind enough to send a picture of the bottle, and also to tell us some more about their wines:

"The Azienda Agricola La Banditaccia produces 3 red wines: Aquilaia, Rosso dell'Olmo and Templari (this last one is a Riserva). Aquilaia and Rosso dell'Olmo recently had a Certificate of merit at the 7th Selection of Tuscan Wines held in Siena on October 20th-22nd, 2006."
They also told us that in mid December at Enoteca Vitae, Borgo la Croce 75/R (near St. Ambrogio) their Rosso dell'Olmo will be available. I think that is where I got my bottle of Aqualaia. We are looking forward to that and hoping to make a visit to the winery soon.
We have also been drinking a lot of wine from Artimino in Carmignano (it fits the budget at the moment). Their Carmignano Riserva 2002 has become one of our regulars - it is less the 9 € a bottle at Esselunga (the 2001 was a superior bottle, but it isn't in stock any longer - if you find one, buy it!). Their regular Chianti (Fattoria di Artimino) is also very drinkable and a great value at less that 5 € a bottle. I don't think Artimino is as highly regarded or as well know as either Ambra or Capezzana, but they seem to making wines of quality at good prices to me. You can find out more about wines from Carmignano and these producers from Kyle Phillips (Kyle is a transplanted Englishman who has been living in Tuscany for years and writes about food and wine for About.com). There is also more about Carmignano here