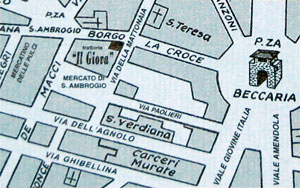 We found a great restaurant last night, Trattoria Il Giova. By great, I mean very good food, reasonable prices, and friendly service. Definitely my kind of place - much more of a bistro than a fancy restaurant. It seemed to be family run - we weren't sure but it looked liked just the dad/owner/chef was in the kitchen preparing all the hot food himself. Two more woman ran the room - one was mostly the waitress, the other prepared the salads and desserts (it is just one tiny room and we did see some people turned away - calling for a reservation is probably a good idea).
The place was suggested by a friend who was meeting us there - while I knew the location (near the Mercato Sant'Ambrogio), from the outside it is the kind of place you wouldn't really notice - and from looking at the menu posted outside while waiting for him to show up the prices seemed so low that I was worried that it couldn't possibly be good. We were happily proved wrong. Everything we had was great, and some of the things we didn't try but saw at other tables looked just as good. Plus, dinner for five (most with two courses), four deserts, the most expensive bottle of red on the short list (22 € - a very nice red from San Gimignano that was an 80/20 blend of Sangiovese and Merlot), and a good bottle of prosecco - all was had for less than 130 €.
The menu staple appeared to be the filet mignon - it was offered several ways. I had the pepe verde sauce. It was a massive, seared piece of very tender beef, smothered in a rich pepper cream mustard sauce - awesome. Ellen had the filetto alla griglia which was also great - hers came with a side of blanched spinach which was fresh and perfectly cooked. Our friend had the pork filet with carmelized onions and a wine poached pear. My first course was crostini Toscano - with the added twist of 2 little bricks of polenta that were deep fried, one topped with liver pate, and the other a razor thin slice of lardo. Again, excellent and unexpected - one of the first times I have had this Tuscan staple with any flair given to the dish. Ellen's first course was a pasta with zucchini flower and truffle sauce which she enjoyed (as did I - the dish was huge and really too much for a first course).
We were having such a good time that we all had dessert too - I would say they were good to very good. I really was too full and should have skipped it. Some of the things we saw that we must go back for - gnocchi in a cream sauce with crsipy pancetta on top, mussels, and a fritto misto of chicken, rabbit and vegetables. I would think that a couple could have dinner here for as little as 30 € with a bottle a wine. The most 2 people might spend is maye 70 €. That is pretty hard to do in this town right now, and it is more amazing at a place that is as good as this.
Trattoria Il Giova, Borgo La Croce, 73/r 50121 Firenze 055 248 0639