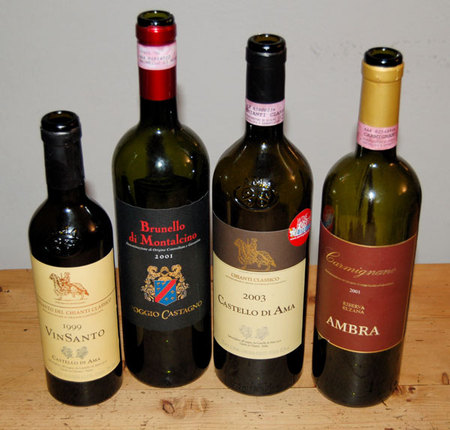 Here are some quick notes about a few things we have had lately:
Castello di Ama Vin Santo 1999 and Chianti Classico 2003
Castello di Ama is very highly regarded and it is obvious after tasting these bottles. The Vin Santo is very complex and rich, with vanilla, oak, spice, and nut flavors (to name a few!). One of the best I have tasted. The 2003 Chianti Classico is a recent Tre Bicchieri winner. While it may be a little pricey for a Chianti Classico (easily costing more than many Riserva at around €25 a bottle) it is probably one of the least expensive Tre Bicchieri wines you can buy, and well worth it. This will probably improve in the bottle for a couple of years, but right now it is a pretty big fruit forward wine - a real mouthful, and quite delicious. It does spend significant time in barriques, and is probably one of the most complex and cared for Chianti Classicos you will ever find.
Visit the Castello di Ama website for more.
Ambra Carmignano Riserva Elzana 2001
I have mentioned Ambra briefly before - we bought a few different bottles from this producer last year when we visited Carmignano. We drank this a couple of weeks ago so I can not say anything about it in detail other than I remember enjoying it very much! This is from BeverageBusiness.com:
"Elzana is another cru. It has galestro and clay soil. Rigoli makes Riservas of these two crus, only as the quality of the vintages dictates. I tasted the 1998 Riservas of both crus, slightly prefering the Elzana. The Sangiovese sung an opera in Elzana. The tannins, too, were particularly soft and rich given Sangiovese's recalcitrant hard, thin tannic personality. It was a solid wine."
That was about an earlier vintage, but I think it applies to the 2001 as well. I really like this producer and the region - the use of Cabernet gives them something different from many other Sangiovese based wines.
Poggio Castagno Brunello di Montalcino 2001
This was the bottle I picked up in the Esselunga on Via Masaccio here in Florence. Definitely a bargain Brunello - you would not confuse this with an Argiano - but a nice wine, that benefited from several hours of opening. At around €13 a bottle on sale, I would buy more. Some more years in the bottle would probably further help.