I have been working on a new blog for Tuscany Rent Direct - Tuscany Blog - it is a place for them to both feature the villas and apartments they have for rent, as well as post news, travel tips, and things to do in Tuscany and Florence. They also have links to weather and Florence events, and will be featuring content from Chianti News magazine, like an interesting article about the festival of St. Luke in Impruneta: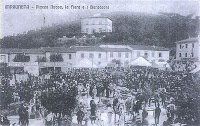 "The festival of St. Luke the evangelist, the patron saint of artists and doctors, is celebrated on October 18th (the actual festival date changes from year to year - check the Comune website for the actual date). Impruneta, a municipality in the province of Florence on the hills between the torrent Ema and the river Greve, has been celebrating him for over 1,000 years with an old cattle fair."
You can also follow them on Twitter at http://twitter.com/rentdirect and become a fan on Facebook (where hopefully we'll get around to posting special offers, etc. in the near future!).